FUN & CLASSIC - Festival of Musical Virtuosity and Humour
Since 2001 Nowy Sacz has become the capital of unconventional, funny, virtuosic and inventive music. It always takes place in the last week of the carnival, which means it starts with a donut and ends with a herring dinner. The time between these two events is filled with concerts. Extraordinary concerts, which are not only musical events, but also unusual, attractive shows.
The Festival's Artistic Director, Waldemar Malicki, a well-known pianist, invites artists with excellent craftsmanship, who at the same time have a sense of distance from their own person and their profession, and therefore know how to have fun with it.
Fun & Classic 2022
This year's edition of the Festival will take place from 24 February to 1 March 2022.
24th February (Thursday), 7.00 pm
THE BEST OF / SO BRITISH
CARRINGTON-BROWN
(concert with audio description)
On programme: British music straight from Berlin! 

27 February (Sunday), 7 pm
VIRTUOSO AND MARGUERITE
WALDEMAR MALICKI - piano and MAŁGORZATA KRZYŻANOWICZ - cello
Programme: unique combination of beauty of Waldemar and intelligence of Małgorzata.
 
1st March (Tuesday), 7 pm
MAESTRISSIMO - PAGAGNINI 2 (SPAIN)
Eduardo ORTEGA - violin, Jorge FOURNADIJEV - cello, Isaac M. PULET - violin, Jorge GUILLÉN "STRAD" - violin
On the programme: a performance "allegro e molto vivace", between a chamber concert, a satirical comedy and a period portrait, showing the adventures of a string quartet in an unspecified period between the 17th and 18th centuries.
 

Ticket prices for each event: 60, 55, 50, *1 PLN
*1 zł tickets for anti-communist opposition activists and persons repressed for political reasons (on the basis of an ID card).
Tickets available from 3 February online and at the box office of MCK SOKÓŁ.


During the event the current legal regulations and the MCK SOKÓŁ Terms and Conditions of Artistic Events applicable in the period of the SARS-CoV-2 epidemic in Poland will be applied with regard to restrictions related to the Covid-19 pandemic.
The upcoming events from this series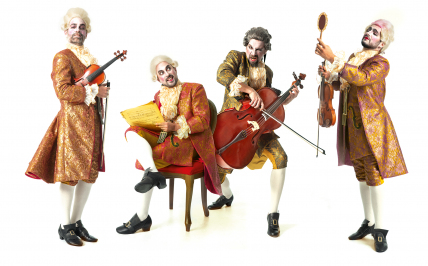 1 March 2022, hour 19:00
Lucjan Lipiński Hall, MCK SOKÓŁ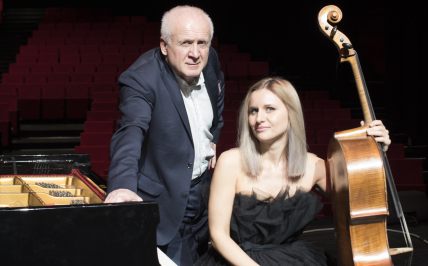 27 February 2022, hour 19:00
Lucjan Lipiński Hall, MCK SOKÓŁ
24 February 2022, hour 19:00
Lucjan Lipiński Hall, MCK SOKÓŁ